NIEUWE KAART VAN 'T KONINCKRYK BENGALE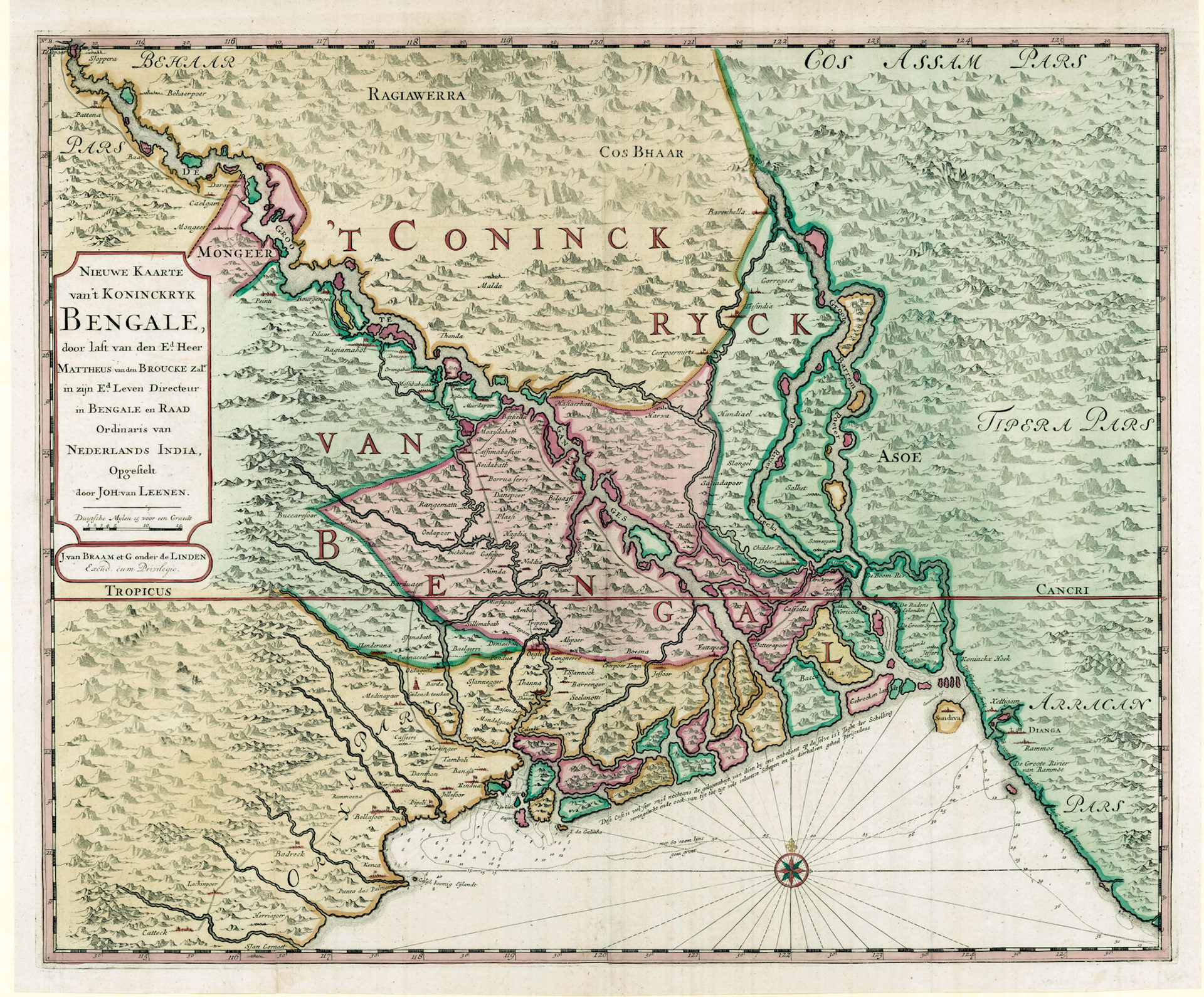 Mattheus van den Broucke was Director of the Dutch East India Company (Vereenigde Oost-Indische Compagnie or VOC) in Bengal during 1658-1663. Van den Broucke authorized a survey of Bengal, which was carried out by Commander Johan van Leenen in 1666-1667.
This map of Bengal was included in the encyclopedic work "Oud en Niew Oost-Indien" by Dutch author and VOC official Francois Valentijn and published in 1726. Valentijn lived in the Dutch East Indies for 16 years and never visited Bengal. Valentijns Bengal map is based on Van Leenen's survey and supplemented by the VOC's archive of geographic information to which he had privileged access.
Historically the map can be placed to depict the period when Aurangzeb was the Mughal Emperor and Shaista Khan was the Subahdar (Governor) of Bengal. The level of detail shown in the map places it at probably the most important 17th century map in the European mapping of Bengal.
Of particular importance is the first ever depiction of the road network of Bengal. Major thoroughfares called Shahi Rasta are shown with double lines. A principal road on the right bank of the Ganges passes over Patna, Munger, Rajmahal to Suti where the Bhagirathi branches off the Ganges. Here the road also branches into two: the southern branch goes over Moxudabad (Murhidabad), Kasim Bazar, Plassey to Hagdia (Agradwip) where there is a river crossing over the Bhagirathi River to Gazipur village and then proceeding via Bardhaman, Midnapore, Bhadrak and ending in Cuttack, Odisha. The eastern branch from Suti follows the right bank of the Padma over Mirzapur village via Bilgassi (?) to Fatepoer (Fatehabad or Faridpur); here the route crosses the Padma to Jatrapur (Harirampur Upazila, Bangladesh), turns toward the fort city of Idrakpur and then connects by a river route to Dhaka.
Several other roads are shown by dotted lines: (1) A road from Bardhaman going east to Selimabad on the Damodar River, Dhaniakhali, Hooghly, Bhusna (near Magura, Bangldesh), Jessore to Fatepoer (Faridpur). (2) A road from Dhaka over the Dhaleswari River to Piaarpoer (?), Bedlia(?), Shahzadpur and ending in Handiael (Tangail).(3)A road from Bardhaman to Baccaresoor (Bakleshar in Birbhum famous for its hot springs), and then to Kasimbazar crossing over the Padma to Hazrahati (a little downstream from Sardah, Bangladesh); the road then goes over Haroa to Ceerpoor Mirts (Sherpur Murcha which is the Sherpur in Bogra, called by this name by the Mughals to differentiate it from the other Sherpur in Mymensingh called Sherpur Daskahania), the road then passes Ghoraghat and ends in Baritala on the banks of the Brahmaputra and the last city before the Assam frontier,
There is an inscription on the coast of the Sunderbans, designating it as "unknown" and consisting of numerous islands and waterways, perilous for ships and this being the place where the ship Jaght ter Schelling sank in 1661.