PARTIE DU GANGE OU SONT LES ETABLISSEMENTS DU COMMERCE DES NATIONS DE L'EUROPE DANS LES INDES ORIENTALES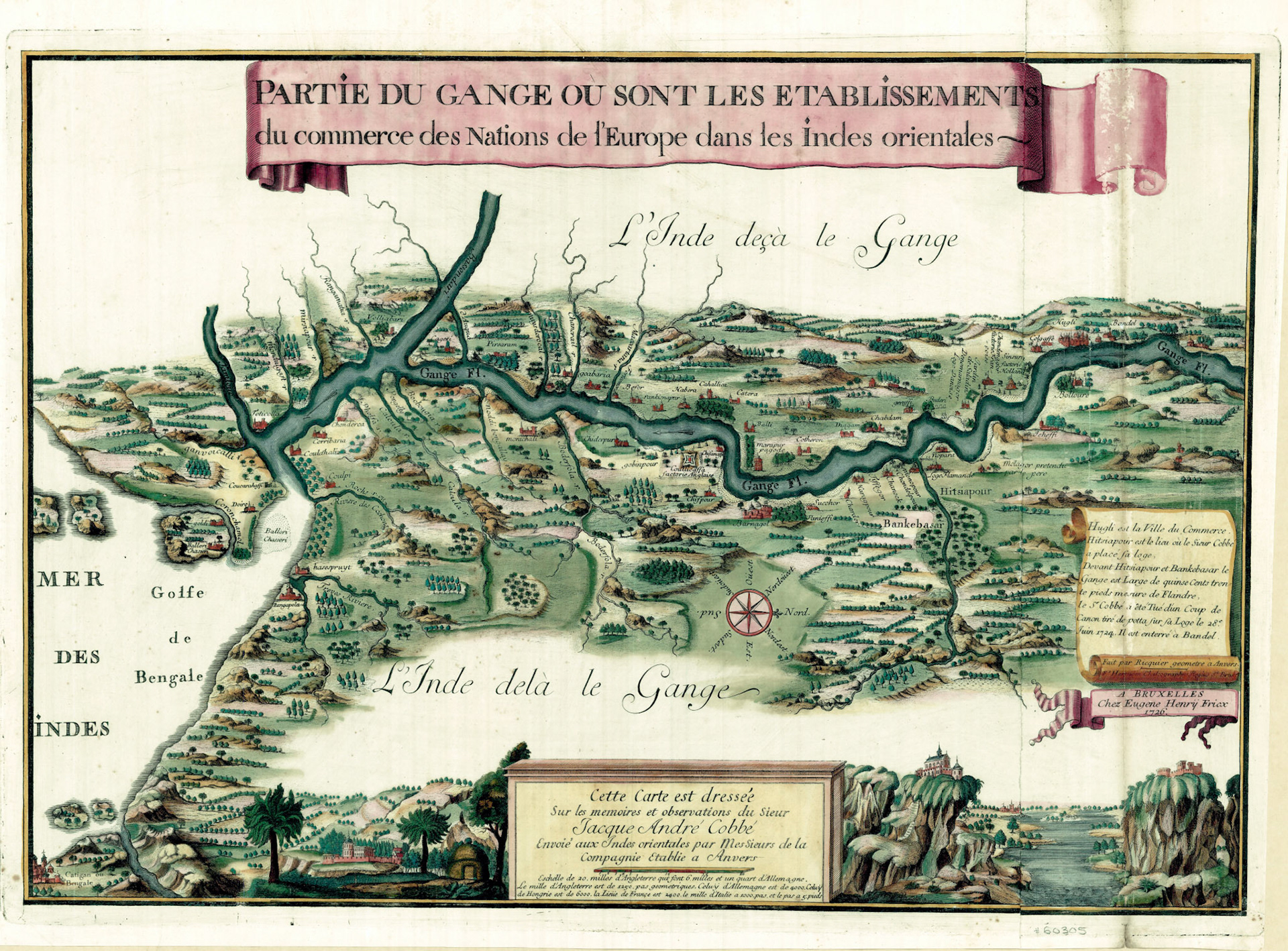 A magnificent, early 18th century, bird's eye view map of the Hooghly River valley, commissioned by one of the lesser known East India Companies:  the short lived but highly profitable Flemish-Austrian Ostend Company. The ships of the company sailed from Ostend, Belgium and were financed by investors in Antwerp and Ghent. Belgium at this time was known as Austrian Netherlands and was part of the Austrian Habsburg Empire. The founders of this company were mostly Flemish, no Austrians involved; however the East Indian trade charter granted to it by the Austrian Emperor, Charles VI, gave the Ostend Company the legitimacy and prestige which caused great anxiety among the well established English, Dutch and French East India Companies.
The map is oriented with west on top. The Flemish settlement is marked as "Loge Flamande" in Hitsiapore (Ichapur). The Flemish factory was located in nearby Bankebasar (Bankibazar). Across the river is a Danish settlement, Denemarnagor (now Gondalpara). North of this is the French factory of Chandernagore (Chandannagore) and the Dutch factory at Chinsura (Chuchura). Further north are the port of Hugli, mercantile capital of Bengal at this time and Bandel, an early Portuguese settlement.
In the center of the map, on the east bank of the river is "Coullicatta factorie Anglaise". This is the village of Kalikata from which modern Kolkata derives its name. Kalikata together with the adjacent villages of Gobindapur (Gobinpour) and Sutanuti (Chitanatti) were purchased by the British East India Company agent Job Charnock in 1690 to establish the English settlement of Calcutta.
In 1721, the Ostend Company obtained a firman (decree) from Murshid Quli Khan, the Nawab of Bengal, to establish a factory at Bankibazar which they fortified with cannons. Lieutenant General Jacques Andre Cobbe was appointed to lead the factory. The British and Dutch bribed the Faujdar (administrator) of Hugli to drive out the Ostenders. The Faujdar persuaded the Nawab to order removal of all the fortifications. Once the Ostend Company refused this order the Faujdar's forces attacked and in the battle Cobbe was killed, as described on the cartouche to the right of the map. The Ostend Company was abolished in 1731 by Emperor Charles VI as part of the Treaty of Vienna, a concession to the British and Dutch, in return for recognition of his daughter Maria Theresa as heir to the Habsburg Empire.