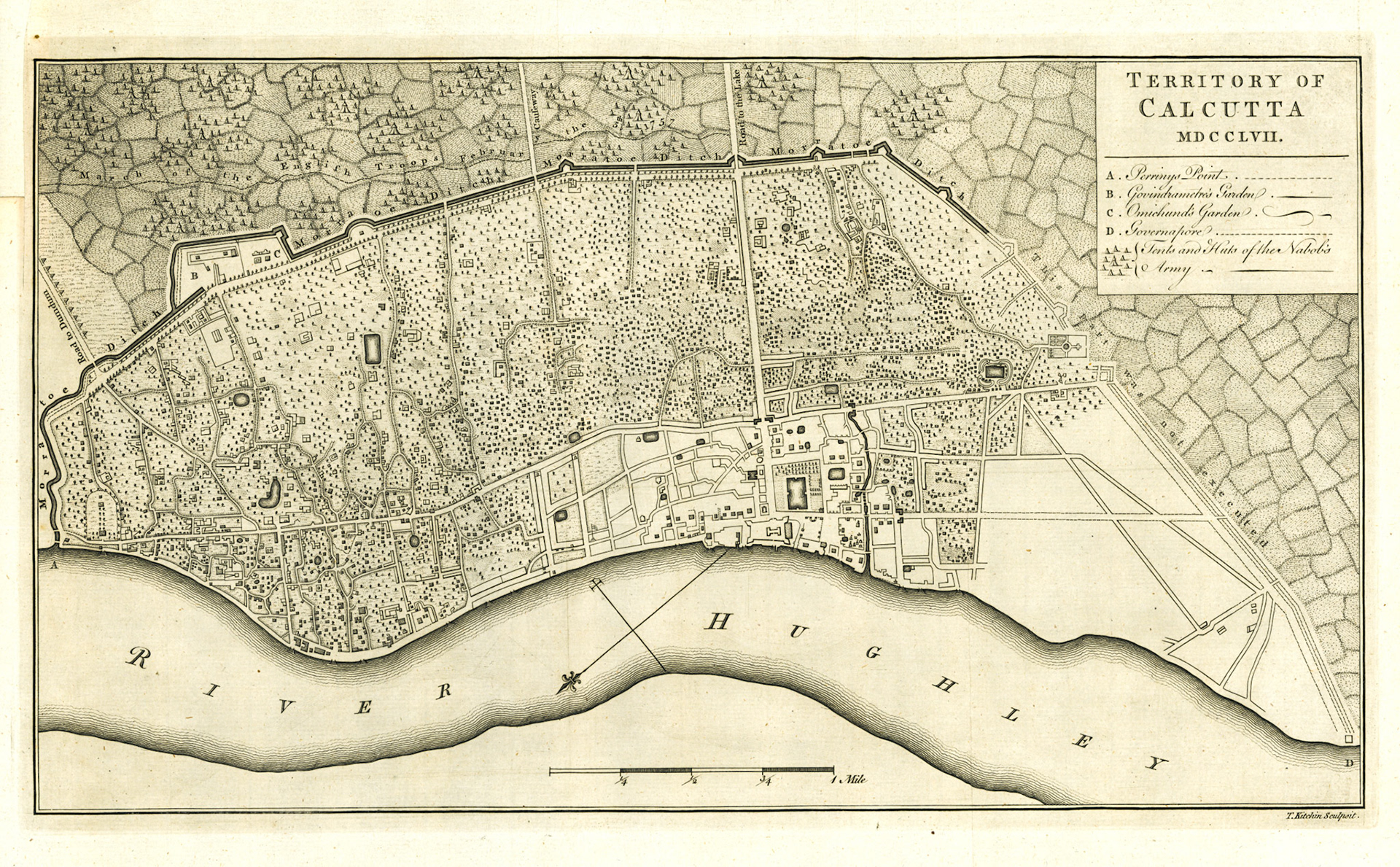 The bustling modern metropolis of Kolkata has its origins in the humble village of Kalikata on the east bank of the Hooghly River. In 1698 the Mughal Emperor Aurangzeb transferred the jagirdari (Land Grant and Taxation Rights) of Kalikata and the adjacent villages of Sutanuti and Gobindapur (Governapore in this map) to the East India Company. The British trading post or Territory of Calcutta was born.
In 1712 the British completed the construction of Fort William within the Calcutta territory to protect their commercial interests from other European powers. In 1742 a moat was excavated around the perimeter of the territory. This moat, called the Maratha Ditch ( Morattoe Ditch in this map) was never fully completed. The Maratha Ditch was built to protect Calcutta against marauding Maratha horsemen from the west, locally known as "Bargis".
Three events in 1756-57 all centering on the Territory of Calcutta would set the stage for the Battle of Plassey.
June 16-20, 1756: The Bengal Nawab Sirajud Daula's forces attack Calcutta at the region of Perrin's Point at the extreme north (left on this map) overwhelming the city's defense, lays siege to the fort and the outnumbered British are forced to surrender. The conquered city is renamed "Alinagar".
January 2, 1957: British reinforcements arrive from Madras. Combined forces led by Colonel Robert Clive of the East India Company, Captain Eyre Coote of the Royal Army and Admiral Charles Watson of the Royal Navy easily recapture Calcutta from the Bengalis.
February 4-5, 1757: Sirajud Daula is determined to retake Calcutta and brings his army and camps outside the Maratha Ditch as marked on this map. His headquarter is at Omichand's garden ( Omichand a.k.a.  Amir Chand and Govindametre a.k.a  Gobinda Ram Mitra were two fabulously wealthy Indians who owned twin pleasure gardens within Calcutta).Clive leads a reckless assault on the Nawab's headquarter. His march is shown in broken lines on this map. The attack is a failure but it so unsettles the Nawab that he signs a treaty with the British, the Treaty of Alinagar, restoring British commercial interests in Calcutta.
Clive knew that the Nawab was an existential threat to long term British interests in Bengal, and so the stage was set for the treachery at Plassey