Aanwysing der Voornaamste Wooningen, Poorten, Thuynen, Tanken, enz: op Hoegly Ao. 1721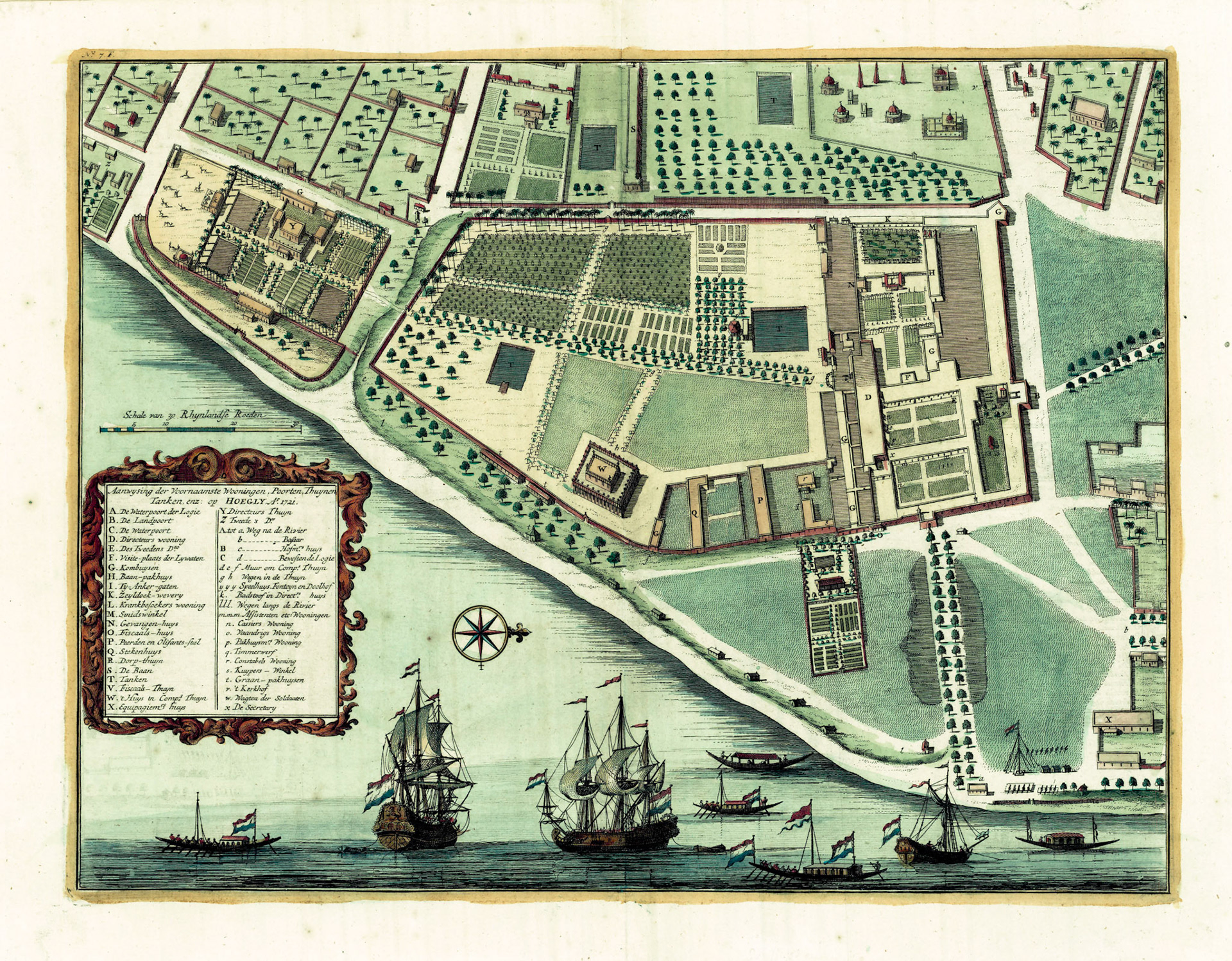 Hugli is a town about 40 km north of Kolkata on the banks of the Hooghly River. Starting from the early 16th century for over 200 years this inland port played a key role in the Bengal-Europe trade.
The first European settlement in Hugli was established by the Portuguese in 1537. With the decline of Portuguese maritime power in the early 17th century, other European powers started settlements here. The first British settlement in Bengal was established in Hugli in 1651 and later abandoned in 1690 in favor of Kolkata. In 1656 the Dutch East India Company created an independent directorate in Bengal and Peter Sterthemius, the first director, chose Hugli as its headquarter. The factory (trading station) at Hugli was later moved to the nearby village of Chinsurah but continued to be called the Hugli factory.
This plan of the Dutch factory at Chinsurah has a west orientation meaning west is up. Tall ships and cargo boats flying the Dutch flag are seen plying the river. The factory itself is shown as a formidable walled structure. Manicured lawns, tree lined paths and water tanks show a much planned mini city. The legend of the map tells us about the location of the Director's office and residence, the quarters for the clerks and guardsmen, various offices, warehouses, stables for horses and elephants and even a prison and an insane asylum. This was an exclusive Dutch enclave and the only non-Europeans who were allowed in were those who came on official business or as day laborers.
In 1825 Chinsurah and other Dutch settlements in Bengal were ceded to the British in exchange for British holdings in Indonesia.